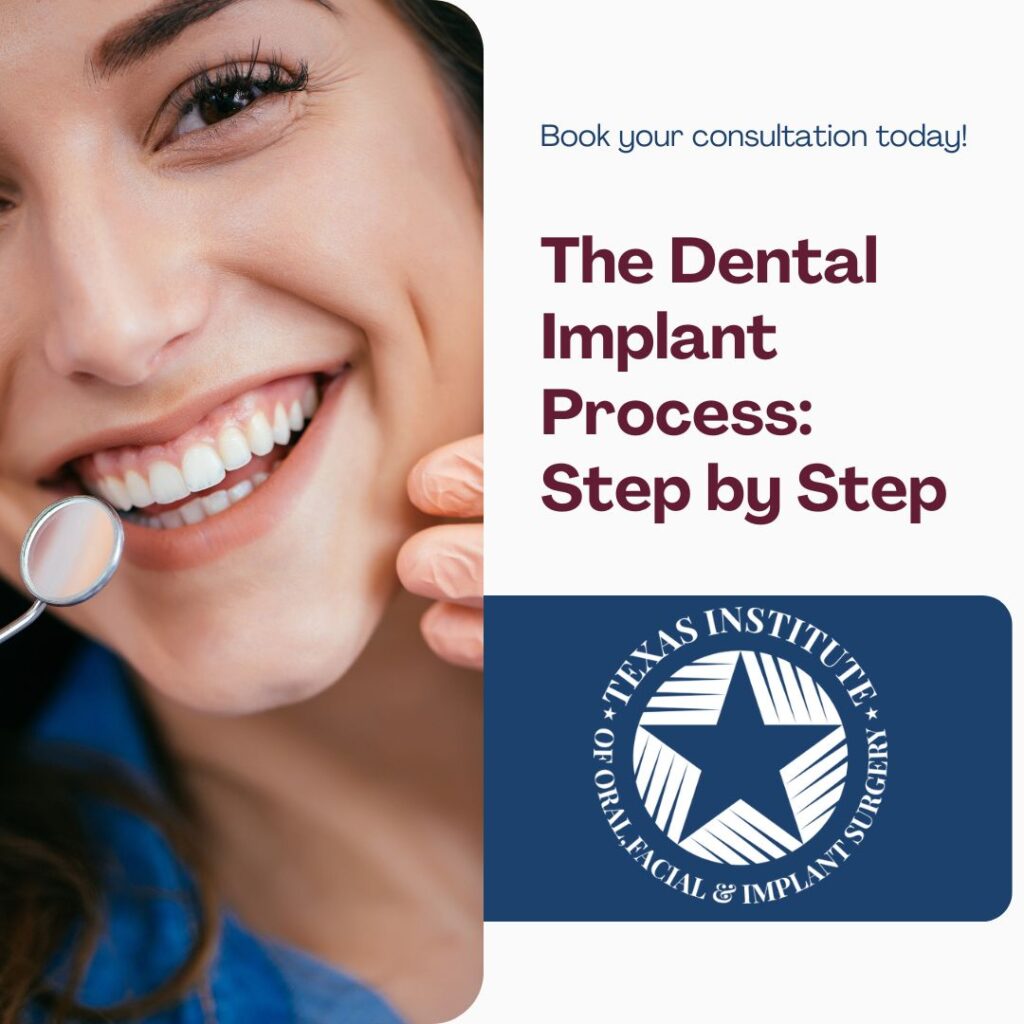 The dental implant process at the Texas Institute of Oral, Facial & Implant Surgery in Midlothian, TX, is a testament to our commitment to providing cutting-edge oral care. With a seamless blend of technology, expertise, and personalized treatment planning, our Ellis County implant clinic is the ideal destination for those seeking to restore their smiles and enhance their quality of life. Today's transformative dental implants are the modern solution to replace missing teeth and restore your oral health.
Understanding Dental Implants
Dental implants are innovative and durable replacements for missing teeth. They consist of three main components: the implant, the abutment, and the dental crown (or other restoration, depending on your circumstances.) The implant is typically made from a biocompatible material called titanium. After the implant fuses with your surrounding bone, the abutment connects the crown or other restoration to the top of your implant. Your restoration is custom-made to blend seamlessly with your natural teeth, both in terms of appearance and function.
The Dental Implant Process: Step by Step
1. Initial Consultation
Your smile journey begins with a personalized consultation at our Midlothian dental implant clinic. During this meeting, our expert will evaluate your oral health, discuss your treatment goals, and determine your eligibility for dental implants. This is a great opportunity for you to ask questions and gain a comprehensive understanding of the procedure.
2. Treatment Planning
Once we've determined that you're a candidate for dental implants, we will develop a customized treatment plan tailored to your specific smile. This plan takes into account factors such as the number of missing teeth, the condition of your bone, the type of restoration you prefer, and things like your insurance coverage and/or financing.
3. Surgical Placement of Your Dental Implant
The implant placement is a surgical procedure performed under local anesthesia to ensure your comfort. However, deeper dental sedation is also available. Our oral surgeon uses advanced techniques and technology to precisely position the implant posts within your jawbone. 
4. Osseointegration Period of the Dental Implant
After the implant placement, we wait for the surrounding bone to fuse and integrate with the surface of your implant. The duration of this healing phase varies from patient to patient but typically takes a few months. Once complete integration is achieved, your new dental implant can support extremely heavy biting and chewing forces, making it even stronger than a natural tooth.
5. Abutment and Crown Placement
Once the implant has successfully integrated, the abutment is attached to the implant post. This abutment serves as a connector between the implant and the final dental crown. The dental crown, meticulously crafted to match your natural teeth, is then secured onto the abutment. The result is a functional, comfortable, and aesthetically pleasing replacement tooth.
Schedule Your Consultation Today
At Texas Institute of Oral, Facial & Implant Surgery in Midlothian, we understand the permanent impact that missing teeth can have on your smile. Our dedicated team is here to guide you through every step of the dental implant process, ensuring that you feel informed, comfortable, and empowered throughout your transformative journey! If you're ready to rediscover the joy of eating, speaking, and smiling with confidence, schedule your consultation today.