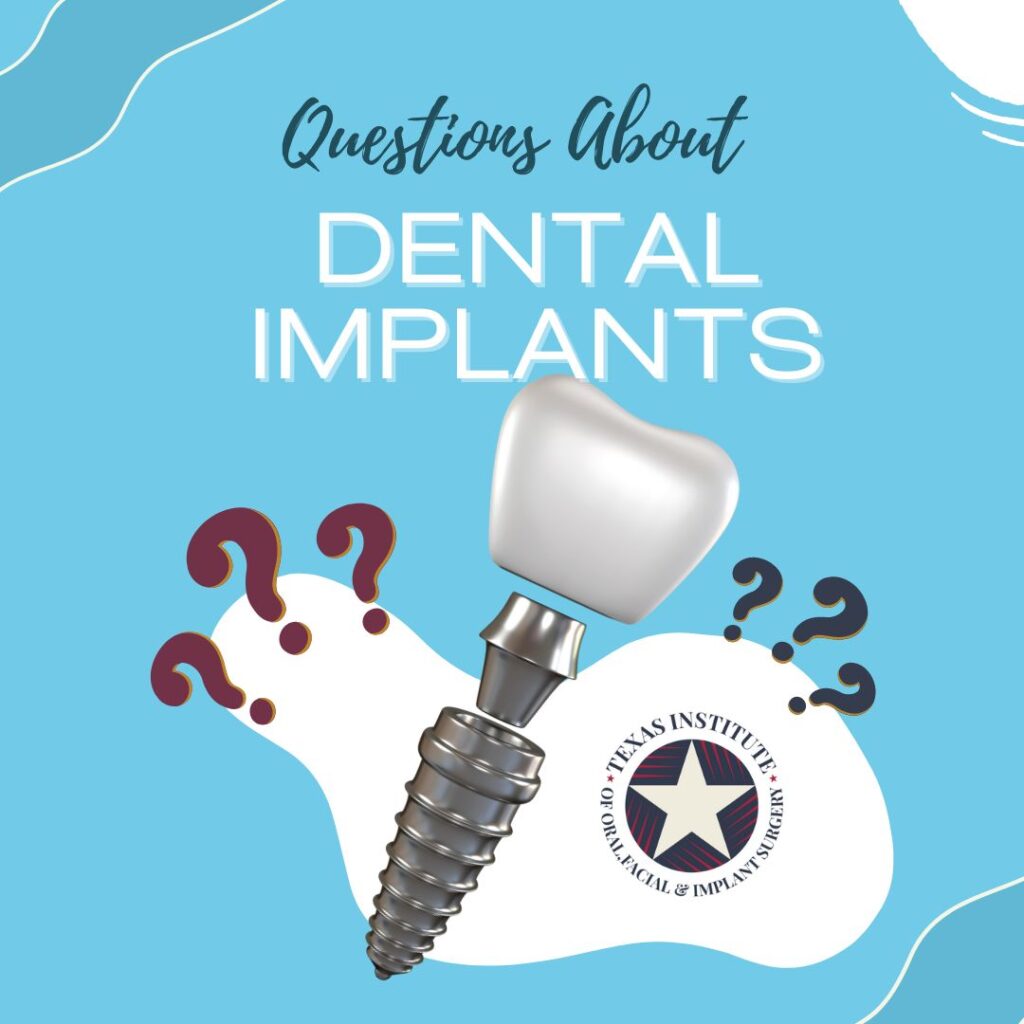 Texas Institute of Oral, Facial & Implant Surgery in Midlothian is happy to answer all of your questions about dental implants; that way, you make the best-informed decision about your smile's future. Today, we are going to review some of the most frequently asked questions regarding dental implant treatment in Ellis County to help you feel confident about your choices for tooth replacement treatments. 
What is a dental implant?
A dental implant is easily described as a prosthetic tooth. It essentially includes a structure that resembles your tooth's natural root. This base is surgically placed into the bone and then a crown is attached to it via an abutment. When all three pieces work together, it makes up the shape and size of a real tooth.
Why would you need a dental implant?
Dental implants are most known for being used as a replacement for a single missing tooth. However, they can also be used for replacing several teeth or all of your teeth! While the restorations and number of implants used differ slightly from one another, they can be adapted to reconstruct your smile regardless of your needs. Best of all, implants provide a stable and long-lasting alternative to removable dentures or fixed bridges which occasionally need to be replaced.
Does it hurt to get a dental implant?
Getting dental implants is a minimally invasive procedure for most straightforward cases. This placement is done using a dental anesthetic to numb the area, so no pain should be felt during the procedure. Some patients experience some mild discomfort or soreness after the anesthetic wears off. However, many patients report this to be manageable with over-the-counter pain medications. As a sedation dentist in Midlothian, we can arrange to have your entire implant surgery completed under in-house sedation, even if it's a more complex case involving multiple implants.
How long will a dental implant last?
Dental implants often last 20 years or longer! If you care for them properly, they can last for the rest of your life. It's important to note that this is dependent on your oral hygiene habits, underlying health issues, and your overall lifestyle. We'll show you how to care for your implants so that they last as long as possible. Compared to bridges or dentures, implants offer the best return on investment because of their long-term predictability. 
Why should I get a dental implant?
Losing a tooth affects your entire smile. Not only do the neighboring teeth start to shift inward, but the bone in that space begins to shrink (resorb) as well. This can also lead to premature aging in your face. Dental implants will help you to avoid these problems by mimicking and replacing the function of your natural tooth. Plus, there's a good chance your investment will last for the rest of your life; other tooth replacements can't do that. 
If you're considering dental implants or want to find out if you're a candidate for implant treatment, reserve a no-obligation consultation with our Midlothian specialist today. Flexible financing is also available! Call now.