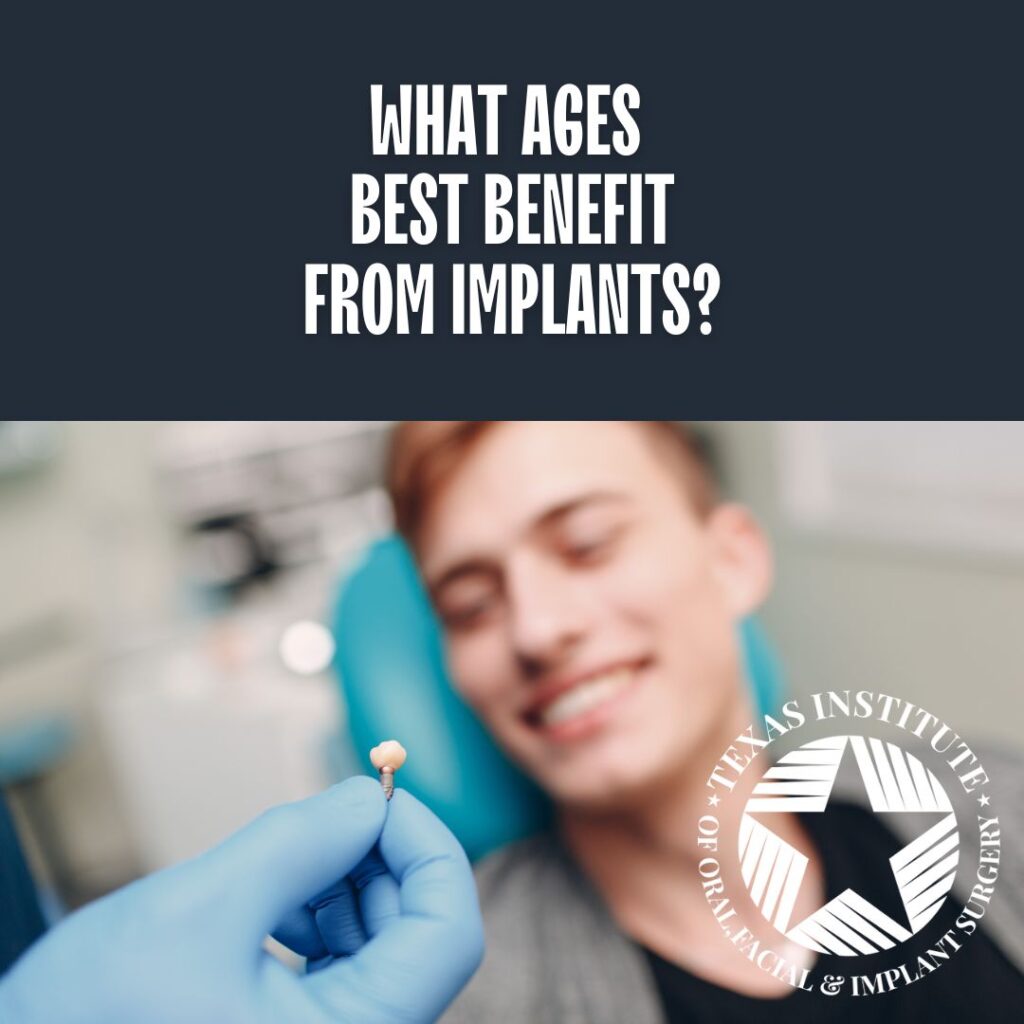 Texas Institute of Oral, Facial & Implant Surgery offers specialized treatment and dental implant consultation appointments for clients in the Waxahachie, Mansfield, Cedar Hill, and the greater Ellis, Tarrant, and Dallas County, TX areas. But one of the more confusing aspects of implants is how old someone should (or shouldn't) be to get them. 
Contrary to popular belief, dental implants aren't just for a specific age group; they can benefit individuals of various stages of life. That being said, there is an age minimum, because your mouth and bones need to be (mostly) fully developed. The best thing to do is plan a dental implant consultation early, so you can be ready when your facial structures are!
What is a Good Age for a Dental Implant Consultation?
While dental implants offer numerous benefits, not everyone is a candidate for the treatment. Certain criteria, including oral health, medical conditions, and bone density need to be considered. In most cases, the biggest barriers to dental implants are things like underlying health issues or inadequate bone support. But when it comes to your age, our implant specialist may recommend dental implants for various stages of life, including:
20, 30, 40, and 50-Somethings:
Dental implants are wonderful for any adult with missing teeth. Especially young, healthy adults who want to avoid invasive treatments on their surrounding healthy teeth. Whether you're in your twenties or fifties, a dental implant consultation should be one of your top priorities for restoring your smile.
Dental Implant Consultation for Teenagers (in Some Cases): 
In certain situations, older teenagers and college students with fully developed jaw bones and facial structures may be able to consider implants. Especially if they have missing permanent teeth due to trauma or congenital issues. 
Older Adults:
You are never too old to get dental implants. Whether you're a busy retiree, a grandparent, or simply want something better than your dentures, we recommend an implant consultation with our specialist in Ellis County. Dental implants help you enjoy the benefits of a complete, functional smile. Age isn't a barrier.
As an implant specialist in Midlothian, we see patients of all ages, from their 20s to their 80s and even beyond!
A Dental Implant Consultation Could Change Your Life
Lifelong Solution:
Dental implants are designed to last a lifetime with proper care. This makes them an attractive option for individuals of all ages, as they provide a practically permanent solution to missing teeth. If you're in your 20s or 30s, this could be one of the best times to make the investment in an implant.
Natural Appearance:
Dental implants not only restore your smile but also look and feel like natural teeth. This aesthetic benefit appeals to individuals of all ages who want a confident and youthful appearance.
Improved Chewing and Speech:
Regardless of your age, dental implants enhance your ability to chew food properly and speak clearly, which is essential for maintaining a healthy diet and effective communication. Chewing with implants is far better than with a full "plate" style denture.
Schedule a Dental Implant Consultation Today 
You're not too old for dental implants and chances are you aren't too young for them either. Call Texas Institute of Oral, Facial & Implant Surgery today for a no-pressure evaluation. Flexible payment options are available!