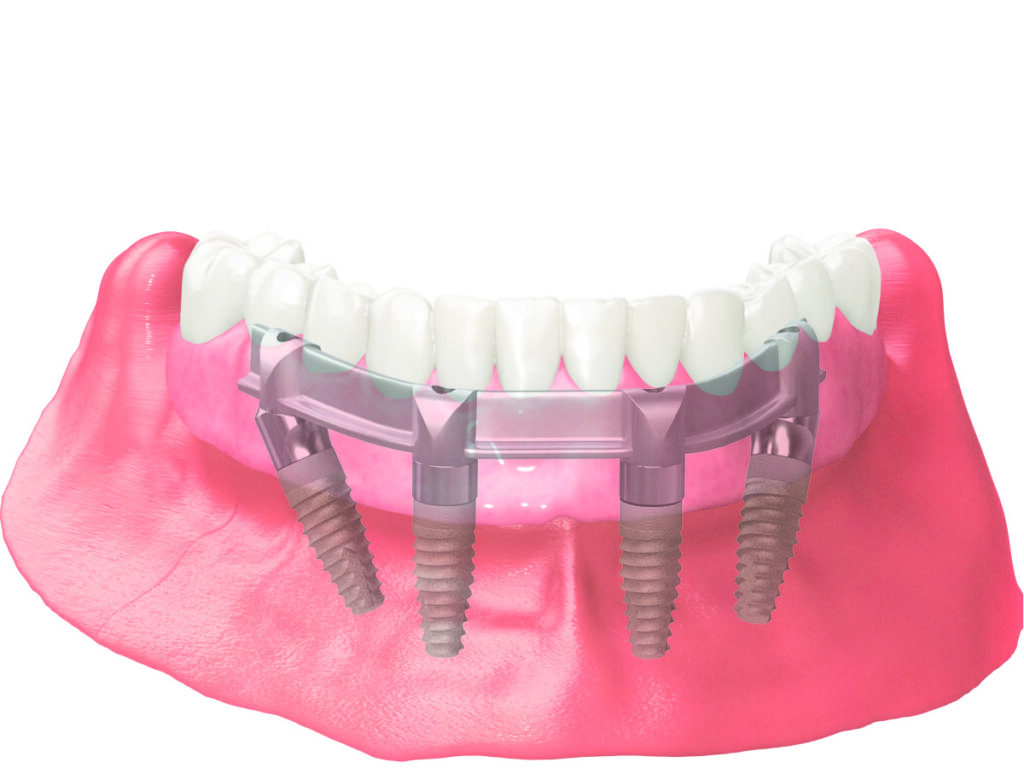 Dentures Supported by Just Four Implants
Complete edentulism (tooth loss) can be a significant concern and have a detrimental effect on several aspects of your oral health and quality of life. While complete dentures are an effective solution for replacing an entire row of lost teeth, they cannot address the profound impact that the loss can have on your dental ridges. For example, without any stimulation, the ridge can more rapidly lose mass and density as its nutrient supply all but dries up, which can have a highly noticeable impact on the appearance of your smile and surrounding facial structures.
How does All-on-4® help?
With All-On-4 implant dentures, we may be able to help you fully rebuild your smile – including stimulation within your dental ridges and oral structures – even if those structures have already lost mass and density due to lack of stimulation. In some cases, this may help patients avoid the need for substantial corrective jaw surgery before they can receive their implant-supported dentures. For all patients who receive All-on-4 implant dentures, the ability to fully restore their smiles with only four dental implant posts helps them enjoy the significant benefits of dental implants and the convenience of minimally invasive treatment.
How do All-On-4 implant dentures work?
The secret to how dental implants is work is the process of osseointegration, which involves the bone structure in your dental ridge fusing to the implant posts' titanium surfaces. All-On-4 implants take full advantage of this process by utilizing the optimal placement and positioning of each implant post to absorb a maximum amount of bite pressure. This allows them to fully support a complete denture across your entire dental ridge without the need for more implant posts. For patients who've experienced a loss of bone mass and density in their dental ridge, the placement of only four implant posts, instead of an entire row, can minimize their implant procedure and help prevent the need for additional oral or corrective jaw surgery.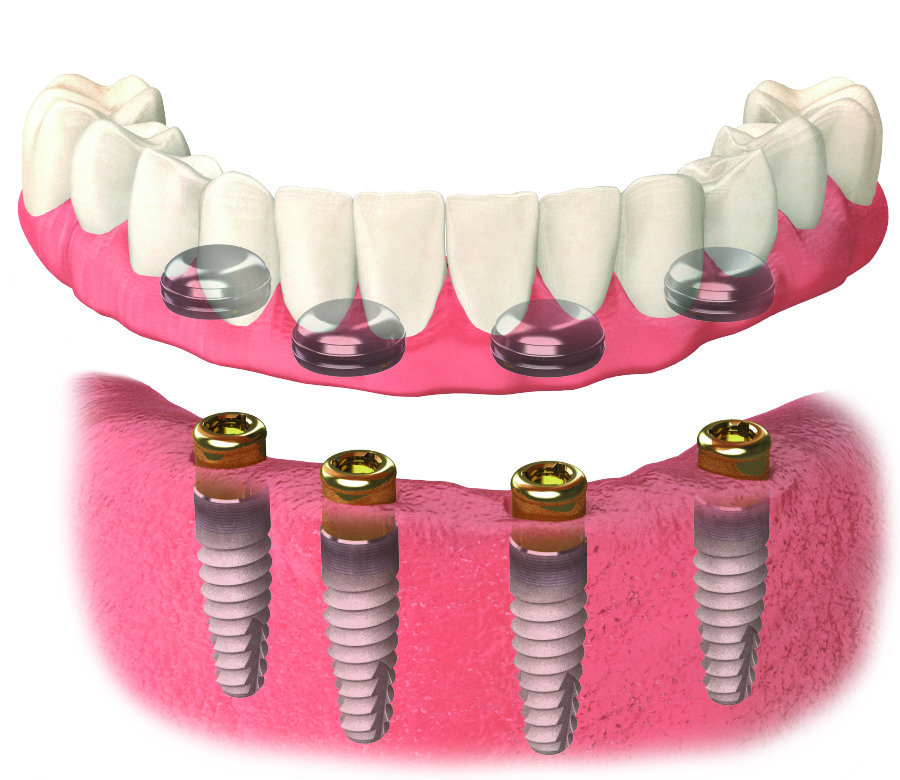 Caring for your implant dentures
In addition to being supported by only four dental implant posts, All-on-4 implant dentures also provide the advantage of being simpler to care for than most traditional dentures. For example, you can keep your custom restoration and your healthy, natural teeth clean by practicing excellent hygiene every day, as well as visiting the dentist regularly for checkups and cleanings. Your implant denture will restore your ability to enjoy a wider variety of foods, but take care not to chew too forcefully on especially hard foods to avoid excessive wear or damage to your denture.
Learn if you qualify for All-On-4 implants
If you've lost all of the teeth on your dental ridge, then All-On-4 implant dentures may help you fully restore your smile in a highly effective and minimally invasive way. To learn more, or schedule your consultation, call the Texas Institute of OFI Surgery in Midlothian, TX, today at 469-649-8259. We also serve patients who live in Dallas, Mansfield, Cedar Hill, Duncanville, Desoto, Red Oak, Waxahachie, Ft. Worth, and all surrounding communities.