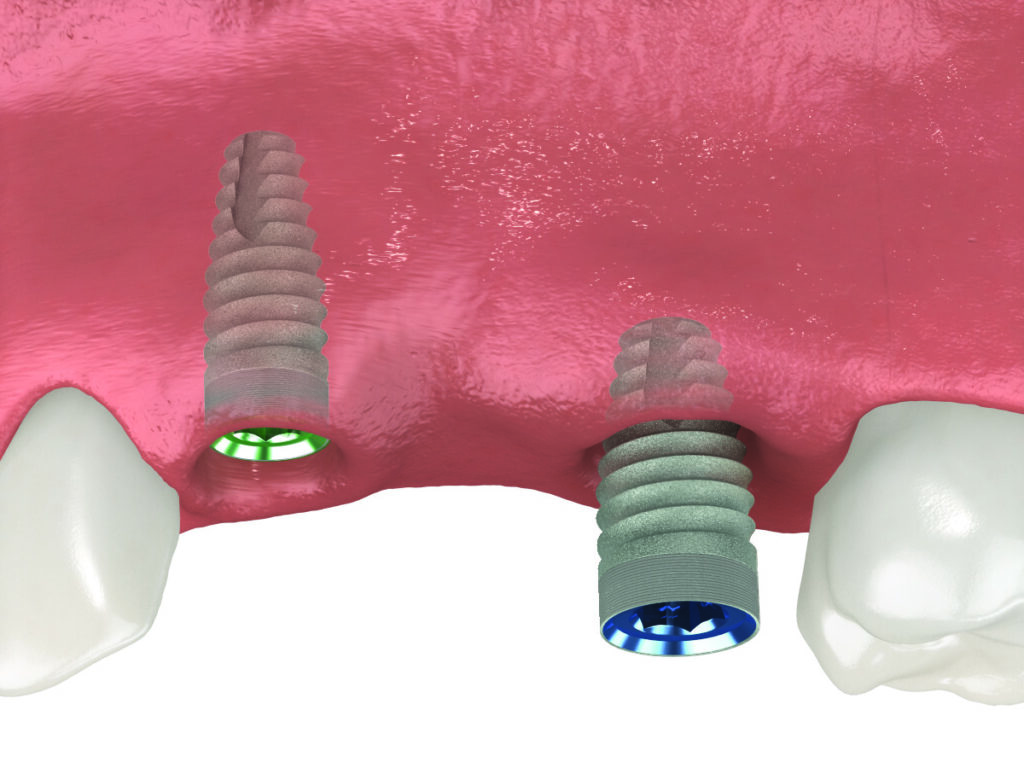 Same-Day Dental Implants and Restoration
Dental implants are designed to replace your lost teeth roots, and as such, they rely on a process known as osseointegration. During this process, the bone structure surrounding the dental implant post will fuse to its biocompatible titanium surface, securing it firmly and permanently in place (much like a natural tooth root). In many cases, this process can take 3-6 months to complete, after which we can affix your restoration to your dental implant posts and abutments.
During this time, you may not have to wait to begin enjoying your newly restored smile. With same-day dental implants, we can design a comfortable and durable temporary restoration that you can wear until you're ready to receive your permanent restoration.
Why choose Teeth in a Day?
There are several reasons why your permanent restoration can't be placed immediately after your implant posts are placed. However, same-day dental implants allow you to immediately enjoy the advantage of once again having a full and attractive smile, as well as a full set of teeth to more comfortably eat your favorite foods. Using highly precise digital imaging and design technology, we can immediately craft a durable temporary that can be more easily removed. This also helps ensure that your dental ridge heals fully and your implant posts are set correctly before affixing your permanent dental bridge or denture in place.
The same-day dental implant process
With Teeth in a Day, the process of preparing and placing your dental implants is similar to that of the traditional dental implant process. The use of computer-aided design and manufacturing (CAD/CAM) technology allows us to digitally plan the placement of each implant post, and to design your high-quality, lifelike restoration, all in one place. Once your dental implants are placed, we can place a custom-designed temporary restoration onto their abutments so you can leave our office the same day with your new, full smile intact.
Caring for same-day dental implants
With Teeth in a Day, you don't have to wait the customary several months after implant placement before you begin enjoying your new smile. However, your dental ridge will still need time to securely bond to the dental implant posts, and you should take special care with your temporary restoration until then. For instance, in addition to keeping up with good hygiene and preventive dental practices, be sure to choose the foods you eat carefully. Especially hard foods, such as nuts, might increase the risks of excessive bite pressure impacting the positioning of your implant posts and/or restoration.
Learn if you qualify for same-day implants
With same-day dental implants, you can begin enjoying your new smile the same day your dental implant posts are placed. To learn more, or schedule your consultation, call the Texas Institute of OFI Surgery in Midlothian, TX, today at 469-649-8259. We also serve patients who live in Dallas, Mansfield, Cedar Hill, Duncanville, Desoto, Red Oak, Waxahachie, Ft. Worth, and all surrounding communities.