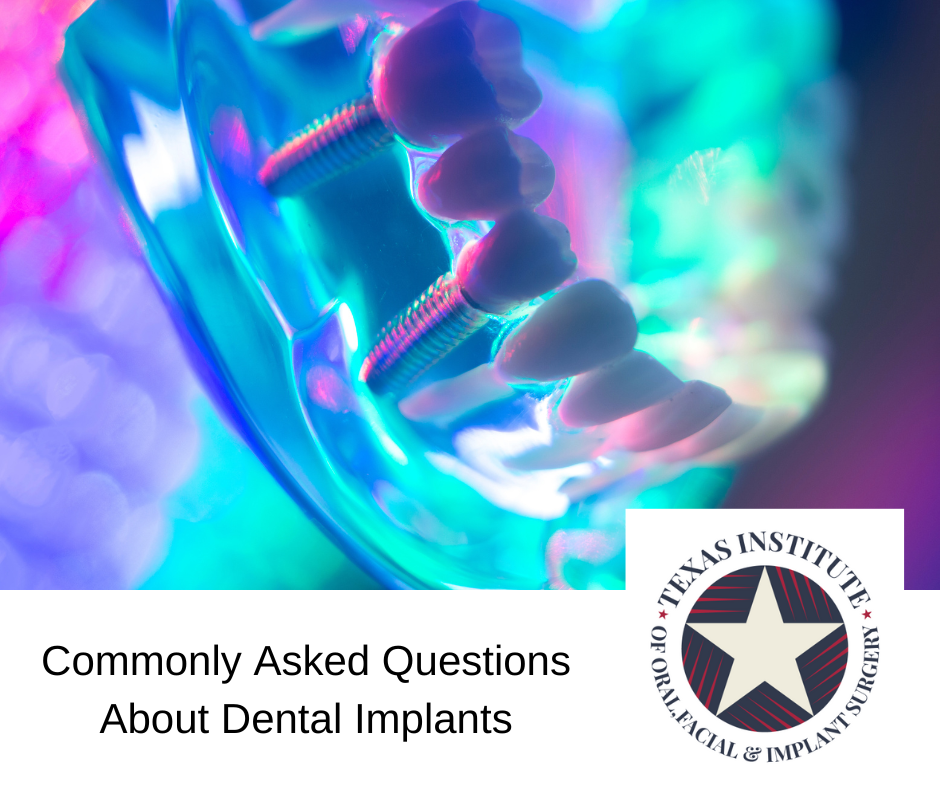 When it comes to restoring your smile, the topic of dental implants often comes with many questions. Dental implants are an advanced solution that has transformed the lives of many of our Texas Institute of Oral, Facial & Implant Surgery patients who were previously struggling with missing teeth. Whether it's a single tooth or a more complex restoration, dental implants have several benefits that make them a sought-after option for those who want to restore their smile and oral function. This article discusses commonly asked questions about dental implants.
Considering Dental Implants
The decision to opt for dental implants often comes from the need to regain full confidence in your smile and full function in your bite. Unlike prosthetic dentures, dental implants offer a long-lasting solution resembling natural teeth. The ability to eat, speak, and laugh without worrying about your dentures slipping is a huge factor for many patients. Dental implants also promote bone health and prevent the deterioration that often happens with missing teeth.
Can Dental Implants Be Used for a Single Missing Tooth?
For patients dealing with a single missing tooth, dental implants provide a permanent fix that can't be distinguished from the natural teeth around it. The process involves surgically placing a titanium post into the jawbone and restoring it with a custom-made crown. This approach restores the aesthetics of your smile and ensures that the surrounding teeth remain unaffected.
What's an All-on-4 Dental Implant?
All-on-4 is an effective treatment that caters to individuals who are missing multiple teeth or a full arch. This innovative technique involves placing four dental implants to secure a full set of replacement teeth in an arch. The procedure is known for its reliability and effectiveness. It offers a stable solution for those seeking a larger restoration of their smile and oral function.
Dental Implants FAQ's
Q: Are dental implants painful?
While some discomfort is normal during the recovery stage, the procedure is performed under local anesthesia and causes minimal pain.
Q: How long do dental implants last?
Dental implants can last a lifetime; they are a highly durable and cost-effective solution.
Q: Are dental implants suitable for everyone?
Generally, anyone in good overall health with sufficient jawbone density can qualify for dental implants. Your eligibility depends on several factors and is evaluated by a qualified oral surgeon.
Q. Are dental implants better than dentures?
Dental implants offer a stable and comfortable solution that outshines traditional dentures. They look and feel like real teeth, they don't need adhesives, and you don't have to remove them at night.
Q. What's the recovery time for dental implants?
The healing process varies from person to person, but most patients return to their normal routines within a few days.
Contact Us to Reserve a Consultation
If you're considering dental implants or have further questions, our Texas Institute of Oral, Facial & Implant Surgery team is here to provide guidance and support. Our team delivers personalized care and tailored solutions for our patients in the Midlothian, Waxahachie, Mansfield, Cedar Hill, and the Greater Ellis, Tarrant, and Dallas County areas. Don't hesitate to reach out and schedule a consultation to explore the possibilities of transforming your smile through the power of dental implants.