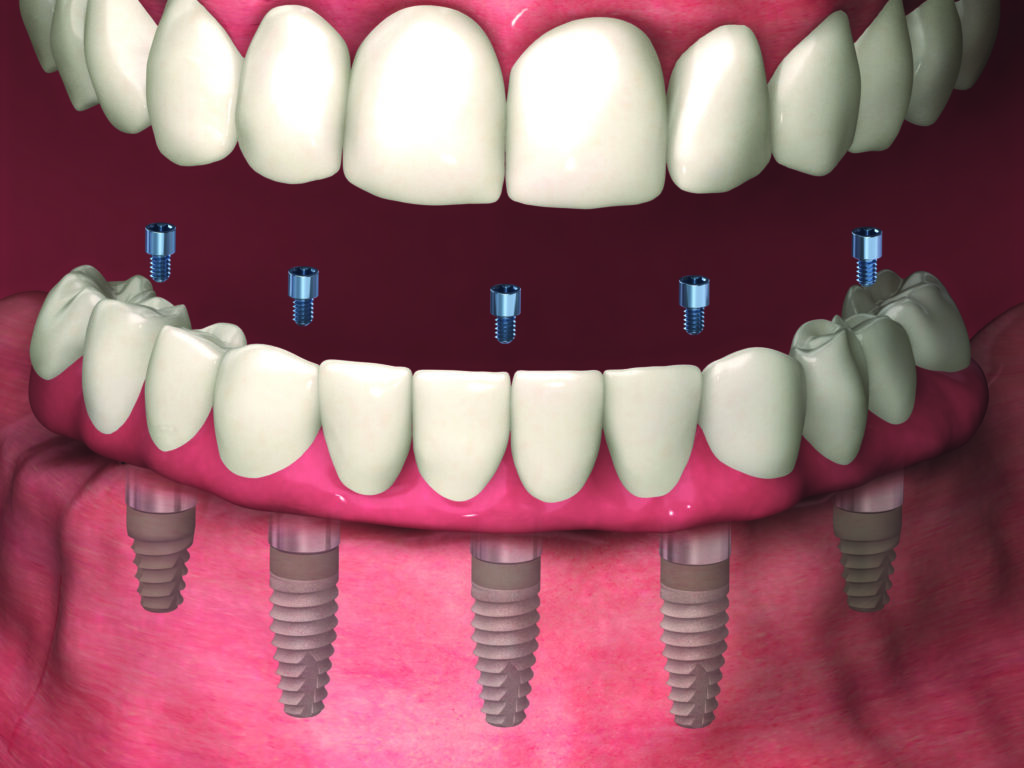 Implant-Supported Full-Arch Restoration
Losing most or all of your teeth on your upper or lower dental arch can be devastating. The function of your bite can diminish, affecting your ability to eat enough healthy, nutritious food. Your smile's appearance can be dramatically altered, impacting your overall level of self-confidence. Full-arch restoration is a dental implant treatment plan that involves placing as few as four dental implants to support a complete, custom-designed denture. Your prosthesis will be secured comfortably and with optimal results, and utilizing as few implants as possible helps minimize the extent of your treatment.
Rebuilding your upper or lower arch
Dental implant posts, which are designed to mimic your healthy, natural teeth roots, are placed in positions that allow them to absorb a maximum amount of bite pressure. When restoring your upper or lower dental ridge, your implants and restoration must reestablish all of the functions of your lost teeth. That includes providing bite power to process your foods, filling out your smile's appearance, supporting each other and the teeth on the opposite arch, and stimulating and preserving the oral structures that support them. A dental implant-supported restoration is the most effective way to do this, and with our extensive expertise in oral surgery procedures, we can plan and complete your full-arch restoration all under one roof.
What are All-on-4 implant dentures?
There are several important advantages that come with fully restoring your dental arch. By replacing all of your lost teeth with a dental implant restoration, you can regain the full bite function, optimal oral health, and confidence that you deserve. That includes the preservation of your oral structures after having suffered extensive tooth loss. With All-on-4 implant dentures, we can minimize the number of implant posts your restoration requires to enhance the benefits of your treatment. Using only four strategically placed implant posts to support your denture allows us to restore your smile faster and with less extensive surgery. This is especially important if you've lost some mass and density in your dental ridges; placing fewer implant posts means you're less likely to require bone grafting before your procedure.
What is an implant-supported overdenture?
As a more conservative alternative to a traditional complete denture, we may recommend placing an implant-supported overdenture to fully restore your smile. An overdenture is a removable restoration that fully restores your smile if you've lost most or all of the healthy, natural teeth on your dental ridge. Using an appropriate number of dental implant posts and your remaining healthy tooth structure (if any) as support, an implant-supported overdenture can help make your implant placement and restoration procedures as minimally invasive as possible.
Do you qualify for full-arch restoration?
Fully restoring your smile after suffering extensive tooth loss is an important, highly detailed process. Before designing your treatment, we'll take a comprehensive assessment of your oral health, including the strength and integrity of your smile, to determine if you qualify immediately for implant placement. If necessary, we may suggest ridge augmentation or a sinus lift procedure to fortify your smile's foundation. Then, we'll work closely with you to determine the appropriate number of implant posts to successfully support your dental prosthesis.
Learn how implants can fully restore your arch
Complete edentulism (tooth loss) doesn't have to be complicated to address. With custom-designed full-arch restoration, we can help you once again enjoy the full, healthy smile you deserve. To schedule your consultation, call the Texas Institute of Oral, Facial & Implant Surgery in Midlothian, TX, today at 469-649-8259. We also serve patients who live in Dallas, Mansfield, Cedar Hill, Duncanville, Desoto, Red Oak, Waxahachie, Ft. Worth, and all surrounding communities.