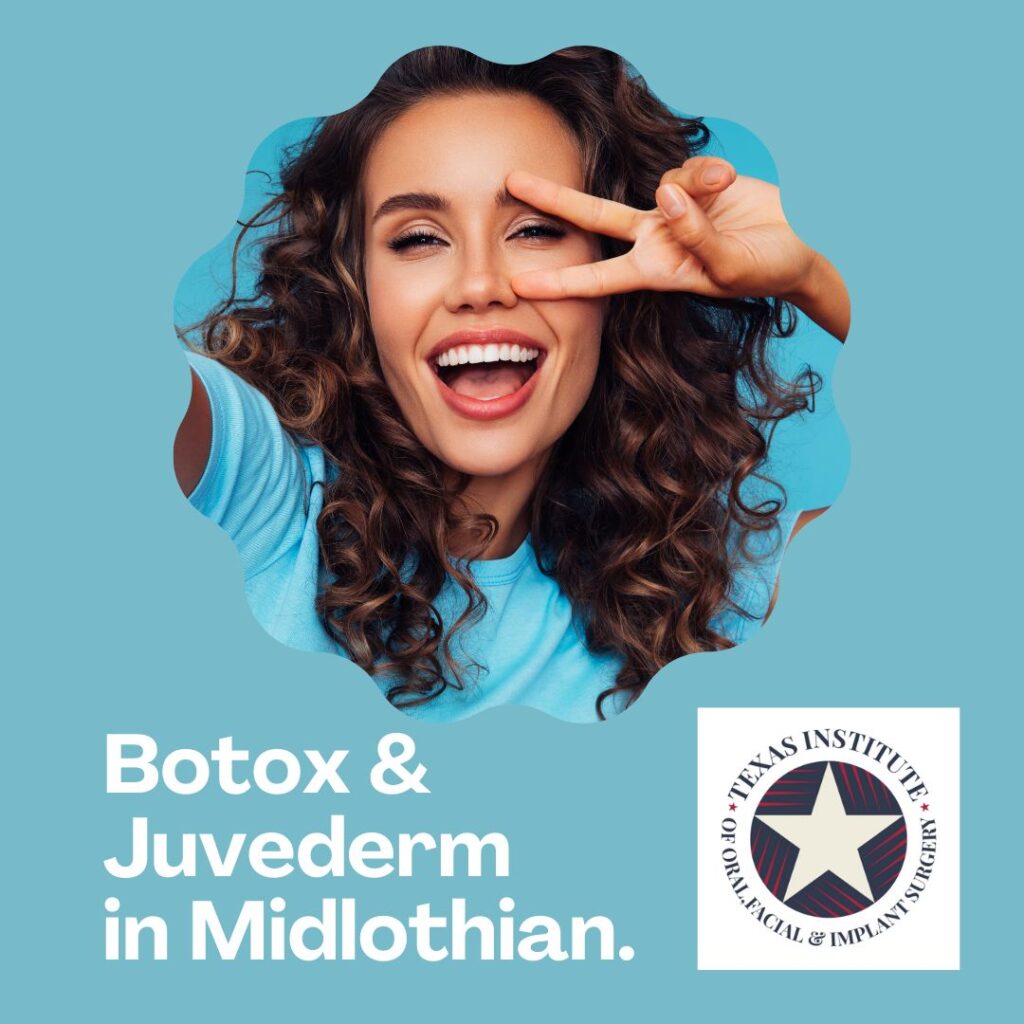 At Texas Institute of Oral, Facial & Implant Surgery Botox and Juvéderm injectables are available to enhance your smile cosmetically as well as provide relief for concerns such as TMJ issues and migraine headaches.
So, what's the difference between Botox and Juvéderm and how exactly do these injectables work? Below we will cover all you need to know about these two fantastic products. Keep reading to learn more.
Botox Cosmetic Injectables
Botox is probably one of the most well-known cosmetic injectables on the market today. Botox is a purified botulinum toxin that works by blocking nerve cell signals that contribute to muscle contraction. This lack of muscle contraction helps relax the muscle and in turn results in the appearance of less fine line and wrinkles.
There are multiple uses for Botox. For example, people who sufferer from chronic migraine headaches occur for more than 15 days a month and last for hours. In studies of individuals that suffer migraine headaches, these individuals benefited the most from Botox injection treatments. Botox works by blocking chemical signals that will transmit pain signals to the brain. In short, if you stop the signal of pain, you won't feel it! Typically, patients that require Botox for chronic migraine headaches must get injections every 12 weeks or so to see the best results.
TMJ disorder (also known as temporomandibular joint disorder,) patients may benefit from Botox injections as well. It's important to know that Botox injections used for TMJ associated pain is technically an off-label use of the drug. Botox can help to essentially paralyze overworked facial muscles that are used in the opening and closing of the jaw. For some patients, Botox works wonders for TMJ associated pain in conjunction with other therapies.
Juvéderm in Ellis County
Another popular option for Ellis County cosmetic injection treatments is Juvéderm. Juvéderm is a combination of hyaluronic acid fillers that help provide volume to the injected area. There are many uses to Juvéderm, depending on what patients are looking for. Juvéderm can be used to help add volume to cheeks, smooth fine lines, define jaw lines, plump up lips, and reduce the look of hollow under eyes.
Juvéderm contains hyaluronic acid(HA). Hyaluronic acid is considered a humectant, which is defined as a substance that retains a lot of moisture. Hyaluronic acid is naturally found throughout the human body within connective tissues, skin layers and even our neural tissues. Juvéderm is FDA approved and has been through numerous clinical trial studies to confirm the safety of its use. Juvéderm typically lasts anywhere from 6 months to 2 years, depending on the Juvéderm treatment that was used. Results can vary per individual.
Both Botox and Juvéderm in Midlothian can be administered with topical anesthetics to help ease patient comfort during the injection process. Often our patients report no more than a small pinch as the administration procedure for both types of injectables are made with patient comfort in mind.
Zero Pressure Cosmetic Consultations
If you are looking to reduce the look of fine lines and wrinkles, or want to plump up the volume in areas that look sunken in, call Texas Institute of Oral, Facial & Implant Surgery in Midlothian today for a consultation.