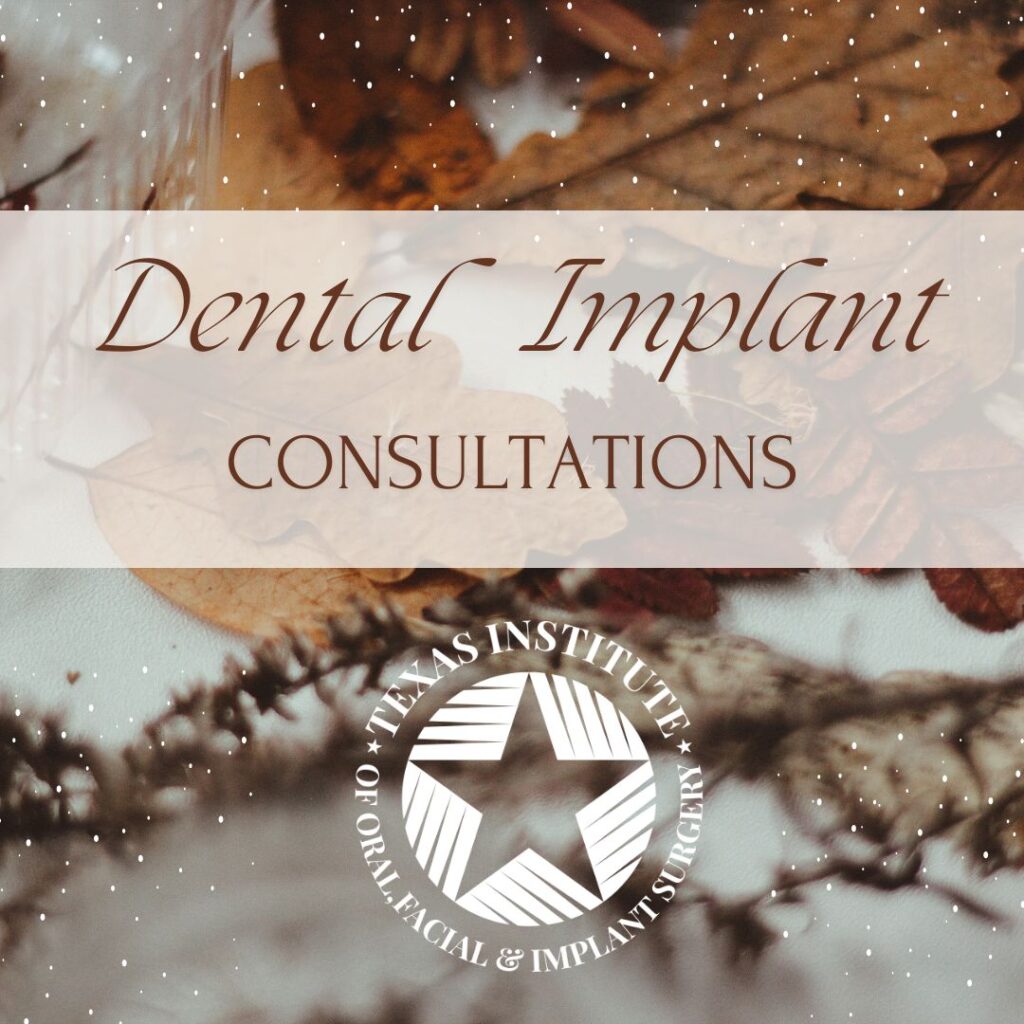 The holidays are a time we take to enjoy the people and places around us. Our calendars are filled with holiday parties, family gatherings, and outings with friends. Or maybe you're planning to take it a bit slower this season and enjoy some rest and relaxation. Whatever the case may be for you this year, a missing tooth can leave a lasting impact on whatever you're up to. Texas Institute of Oral Facial & Implant Surgery specializes in restoring smiles once and for all, so why not gift yourself something special this holiday season, like a consultation to discuss your smile reconstruction?
Worry-Free Implant Appointments
Planning a consultation over the holiday break can make it easier to fit 'me' time into your busy schedule. Especially if you're already taking some extra time off from work or have a long holiday break planned. Because dental implant treatment is typically scheduled out across more than one appointment, you can save up other days if you decide to plan treatment in the future since the consultation phase will already be complete.
A Time to Talk Over Your Implant Options
There have been so numerous advancements when it comes to replacing missing teeth. Unfortunately, you may have been told that you don't qualify for some of them even though new advancements have changed the way these treatments are completed. Many people are not aware of all of their treatment options and today there are more than ever!
Planning a consultation with our Ellis County dental implant specialist allows us to discuss treatments like a single tooth implant, All-on-4 implants, or an implant-supported denture. If you are unsure what any of these could mean for you, we can discuss the details of each procedure and what it would entail. Then you can take time over your break to consider your choices and come back for treatment whenever you're ready.
A New Smile in the New Year
Our no-obligation consultation process will help guide you through the steps necessary to achieve a healthier, happier smile. Get all of the information you need to plan ahead for implants in the new year. Most dental insurance coverage ends at the end of the calendar year, so coming in for an exam over the holidays gives you an opportunity to utilize any benefits that have still gone unused. It also gives you a chance to look forward to the new year to map out the obligations needed to complete your implant treatment. Our financial coordinators will prepare a treatment plan along with an insurance estimate for your review.
Set Yourself Up For Successful Implant Treatment
Take advantage of your time off and plan a visit to Texas Institute of Oral Facial & Implant Surgery over your holiday break to discuss your dental implant journey. Contact us today to schedule your dental implant consultation. Our Ellis County implant specialist serves patients throughout the Midlothian, Waxahachie, Cedar Hill, Mansfield, and surrounding DFW communities.