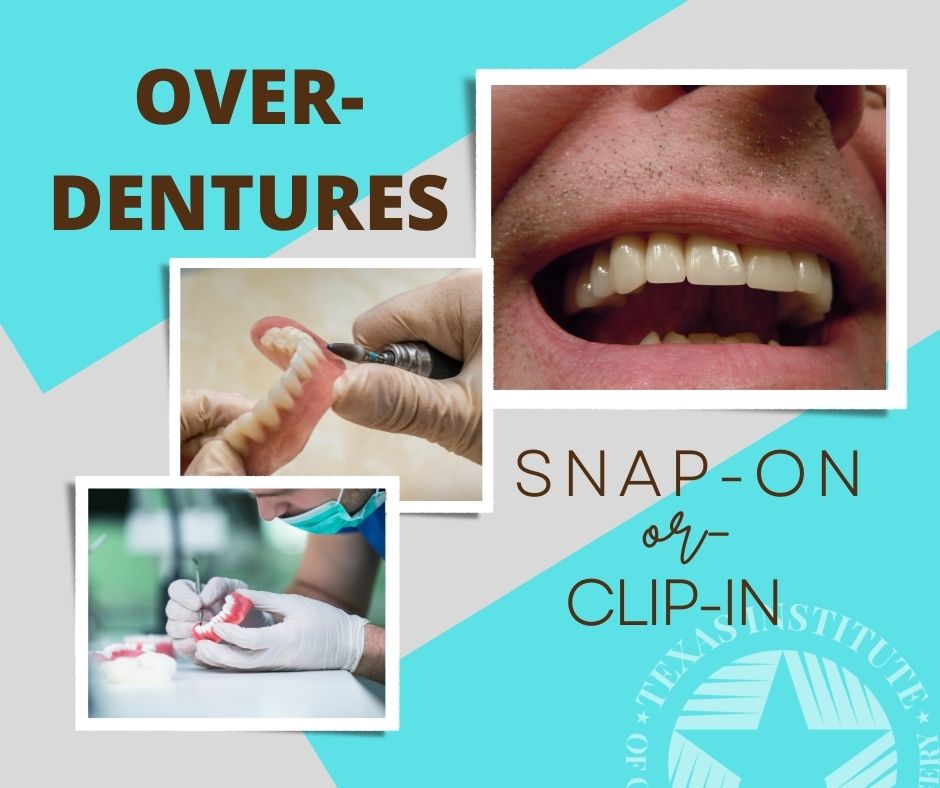 Overdentures are a type of dental prosthesis that blends a conventional removable denture with dental implants for added stability. Held in place by two or more dental implants during the day, overdentures help to prevent the slippage and movement that often occurs with traditional dentures.
If you struggle with the fit of your traditional dentures using dental implants to create an overdenture can help restore your smile. Especially if your denture shifts or rocks throughout the day, you might consider an overdenture, aka "implant stabilized dentures."
When implants are used to secure overdentures, it eliminates painful rubbing, difficulty eating, or embarrassing speech that often come with wearing traditional dentures that rest on your gum tissues. Overdentures can be removed like traditional dentures, but they are more durable and stay in place because of their attachment to the implants.
Benefits of Overdentures
In today's hectic world,  people can bypass the stigma of traditional dentures and the time-consuming hassle of trying to make sure they fit right. Here are just some of the benefits are why overdentures are becoming more popular:
Easily removed for cleaning
No need to worry about adhesives or messy pastes
Restores the shape of your smile
No worrying about dentures slipping or falling out
Retrofit your current denture for a better fit
Renewed sense of self-confidence
Eliminates painful rubbing or sore spots
How are Overdentures Placed?
At Texas Institute of Oral, Facial & Implant Surgery two minor procedures are required for implant-supported overdentures: one to insert the implant in the bone, and one for uncovering the integrated implant to attach the custom prosthetic a short time later.
Your existing denture may be able to be retrofitted so that it can clasp over dental implants. In order to accept the dental implant's abutment, housings are attached to the underside and of your denture. Once your implants have been placed in your bone, the denture attachments are fitted to snap onto the implants. The overdenture will remain secure all day, yet simple to remove at night.
Who is Eligible for Overdentures?
If you don't qualify for traditional fixed dentures or you don't want to be bothered by the instability that some people experience from traditional dentures, then an implant overdenture is a choice worth considering.
Implants can be a great option for people who don't have enough bone to support traditional dentures. By reinforcing the bone you still have, implants maintain the shape and integrity of your smile.
Should You Get Overdentures?
If your existing denture is uncomfortable, or it's difficult for you to eat or speak without worrying about it slipping, overdentures are an affordable option to consider. With the lower price of dentures and the reliability of dental implants, overdentures can change the way you feel about yourself in the days and years ahead.
Texas Institute of Oral, Facial & Implant Surgery can help you get the smile you've been dreaming about. Contact our Midlothian implant expert today for a consultation or to schedule an assessment!