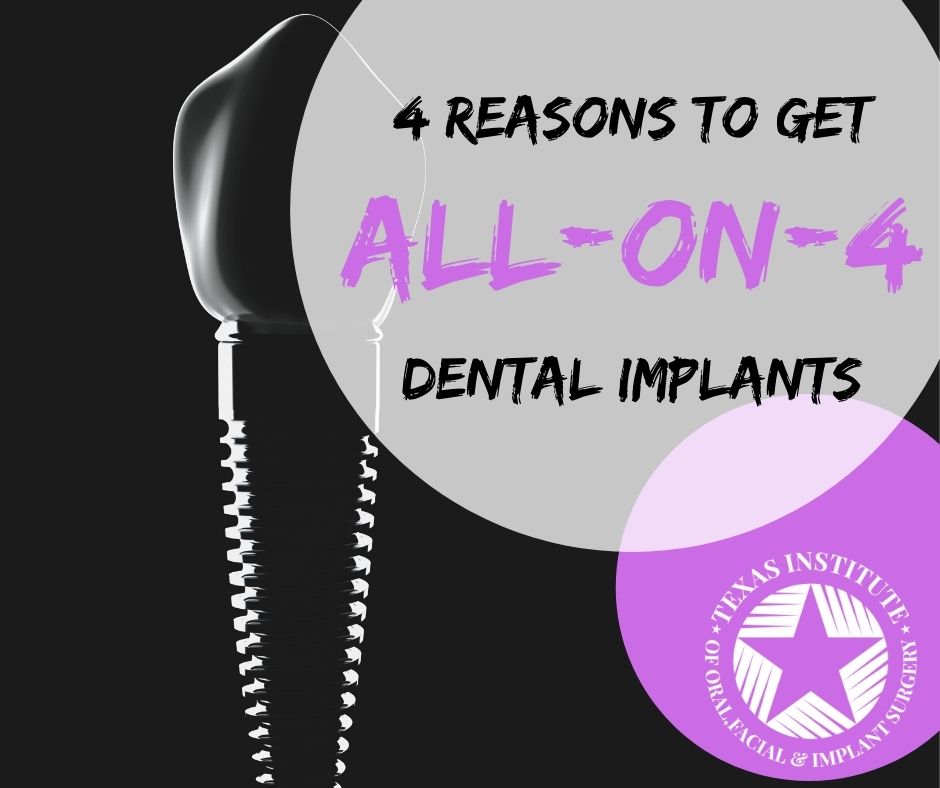 If you need to replace all of your teeth in one arch (or your entire mouth), you'll definitely want to consider the All-on-Four dental implants. With just four strategically-laced implants, you can restore an entire row of teeth for a permanent, natural-looking smile.
Permanently Replace All of Your Teeth at Once
In the past, dental patients relied on removable dentures to replace missing teeth. But dentures are bulky, hard to eat with, and can even cause a bit of self-consciousness when it comes to being around other people.
That's where All-on-Four comes into the picture.
With one streamlined treatment, you get a brand-new smile that will look and feel like natural teeth. You don't have to worry about slipping prosthetics or gum irritation, and since we can place each implant at the best location, All-on-Four implants are minimally invasive.
Eat and Speak More Easily
Our teeth are crucial for many aspects of daily life, especially eating. It may be hard to enjoy your favorite foods if your teeth are missing or damaged. Even if you have dentures, food can be hard to chew or become trapped under the prosthetic "plate" in your mouth.
Likewise, your teeth also affect how you sound whenever you speak. Many people struggle to learn how to speak clearly after getting dentures because the new appliance can feel bulky.
All-on-Four dental implants function just like your natural teeth. These permanent restorations can help you get back to eating your must-have meals and speaking confidently.
Anti-Aging Benefits
Our teeth play a vital role in the support of our facial profile and surrounding bone tissues. Once a few teeth are missing, the jaw can start to deteriorate, leading to bone resorption and the loss of more teeth.
At the same time, your teeth support the structures in lips and cheeks are also transformed. This is why you may have noticed that someone might begin to look older, or their facial profile might change after they start to lose teeth.
While dentures can replace your missing smile, they do not support the bones that are vital to keeping your face youthful and full. Fortunately, All-on-Four implants fuse to your jawbone, providing your bones with the same support they would get from natural teeth.
Implants Last a Lifetime
The All-on-Four procedure is less invasive and shorter than most oral surgeries. Even better, we leverage cutting-edge imaging technology to determine the best places to insert the implants so we can deliver predictable outcomes for each patient.
With this approach, we deliver life-changing, long-lasting results. These implants last longer than other tooth replacement options and are incredibly easy to maintain. As long as you keep up with your daily brush and flossing, you can enjoy your smile for decades to come.
No-Obligation Consultations
If you want to replace all of your missing teeth, the team at Texas Institute of Oral, Facial & Implant Surgery is here to help. Our oral surgeon in Midlothian, TX has years of training and experience in safely and effectively placing All-on-Four dental implants.
We have helped many Ellis County residents restore their smiles with these permanent implants, and you can be next. Call 469-649-8259 to schedule your no-obligation consultation.