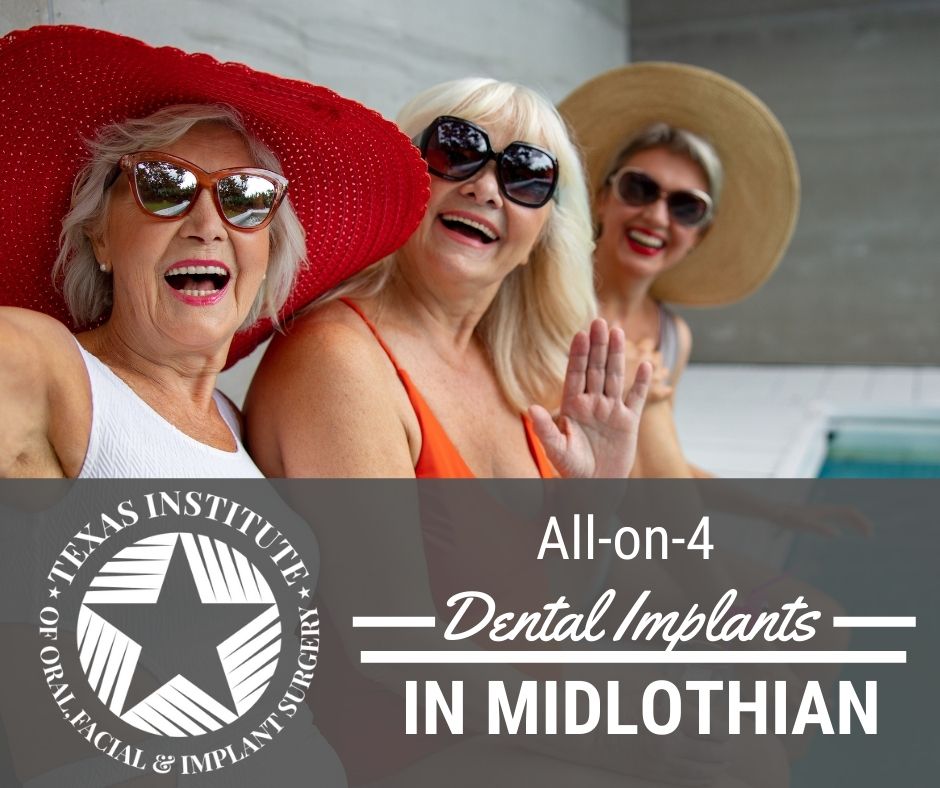 Looking for the best way to replace missing teeth? All-on-4 dental implants could be the solution.
Conventional dentures have been used for decades. And although they're inexpensive and efficient, they aren't always the best long-term solution. Today's advancements in dental implant technology have made it possible to streamline alternatives to dentures, such as full-arch restoration with dental implants (aka "All-on-4 implants"). Although both dentures and dental implant options are used on a day-to-day basis, how can you know which one is best for your unique situation?
All-on-4 Implants Outlast Dentures
The average acrylic denture lasts somewhere between 5-10 years before you have to replace it. Depending on the situation, some wear out more quickly than others. On the other hand, a dental implant has the highest success rate and longest lifespan of any modern-day tooth replacement.
When properly cared for, a Midlothian dental implant has the capability of lasting an entire lifetime.
All-on-4 Implants Impact on Your Lifestyle
All-on-4 implants follow the natural contour of your bite. There's no bulky "plate" to cover the roof of your mouth. Instead, a hybrid device (similar to an extended dental bridge) spans the curve of your natural smile. Compared to a removable denture, All-on-4 implants make it easier to eat, speak, and even enjoy the rich flavors of all your favorite foods. Chances are that our Midlothian dental implants will have the biggest positive impact on your self-confidence and quality of life.
All-on-4: The Best Return on Investment
Are dentures the cheapest way to replace missing teeth? Yes. But only when it comes to the short term. Since dentures have to be routinely adjusted, relined, and replaced, the better return on investment is possibly an alternative like our Midlothian dental implants.
Implant Specialist in Midlothian
Texas Institute of Oral, Facial & Implant Surgery provides comprehensive dental implant therapy options to our neighbors throughout Midlothian, Mansfield, Cedar Hill, Dallas, Ft. Worth, Arlington, Duncanville, and Waxahachie. Our convenient, centralized facility offers modern care with an expert that's close to home.
Contact us today to reserve a zero-pressure, private consultation.