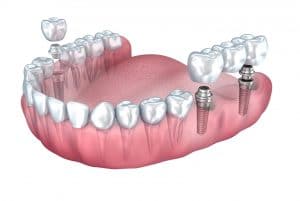 When you've experienced tooth loss, restoring your smile from it is about more than just restoring its appearance before the loss. That appearance might be the first thing that people notice about your condition, but it isn't what has the greatest impact on your overall oral health, or bite function. Therefore, to truly restore your smile, you have to address more than just your smile's appearance, but also the loss of the function that the tooth served. This is only possible by replacing all of the tooth's lost structure, including the root, which is why dental implants are often the best solution at addressing tooth loss.
Understanding the details of tooth loss
It's important to understand what losing one or more teeth means for your smile and oral health. Besides the visible parts of the tooth, called the tooth crowns, you also lose the roots underneath the gums, which supported your teeth as they functioned. Without the same type of supportive anchor, your replacement teeth won't enjoy the same level of comfort and stability that your health, natural teeth enjoy. This can also leave the tooth's socket empty, which can cause your dental ridge to lose mass and density over time. These and many more consequences can make tooth loss a significant threat to your smile for years to come, but with dental implants, you can address that threat early on.
Traditional methods of dealing with it
Conventional dental bridges and dentures can do a great job of restoring your smile's appearance and, to some degree, the function of your bite. For instance, you can once again eat a variety of foods comfortably, though some may be off-limits due to the limitations of your restoration. Dental implants give bridges and dentures the support that healthy, natural teeth rely on, which improves your restoration's ability to restore your bite function more fully.
The difference dental implants make
Dental implants are root-like posts that can be used to enhance a custom-designed tooth replacement with prosthetic roots. The improved comfort and function of your bite are important advantages of this support, but your dental ridges also benefit by having the root's socket filled once again. This means your implant post can stimulate the ridge when you bite and chew, preventing the loss of mass and density that could occur otherwise.
Recover from tooth loss with dental implants
When it comes to addressing the problem of tooth loss, dental implants often offer the best solution. To learn more, or to schedule your consultation, call the Texas Institute of OFI Surgery in Midlothian, TX, today at 469-649-8259. We also serve patients who live in Dallas, Mansfield, Cedar Hill, Duncanville, Desoto, Red Oak, Waxahachie, Ft. Worth, and all surrounding communities.