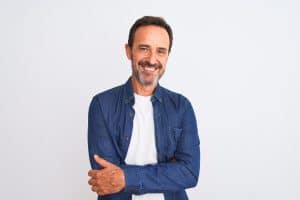 When you experience tooth loss, it's more than just your tooth that's lost. Your smile feels the impact in everything from its appearance to the way it functions when you bite and chew, and much more. To address the many different effects of tooth loss, your replacement option should closely mimic the appearance of your lost tooth, as well as its ability to function the way healthy, natural teeth are meant to. For many tooth loss patients, that option is one that's supported on an appropriate number of dental implants, which are designed to replace your lost teeth roots.
1. Fill your smile out naturally.
If your tooth replacement stands out obviously against your healthy, natural teeth, then it may not provide the smile restoration results you had hoped. The goal of restoring your smile is to return it to a state of optimal health, function, and appearance. That requires a restoration that looks and functions like the healthy versions of the teeth they replace. With one or more dental implants, your tooth replacement can fill out your smile discreetly, not only by resembling your healthy teeth, but also by mimicking the roots that support them.
2. Fit in comfortably among your other teeth.
When your replacement teeth are designed to closely mimic the size, shape, and appearance of your healthy teeth, they'll naturally fit in more comfortably along your dental ridge. Dental implants further ensure that comfort by eliminating the need for things like abutment teeth, hidden clasps, or adhesives, which more traditional dental restorations rely on support. Anchoring your restoration in place, dental implants can provide more lifelike and stable foundation to support your replacement teeth and stabilize them as you bite and chew.
3. Last as long as possible.
Most modern dental prostheses are crafted from lifelike, but durable, materials such as dental porcelain or zirconia. This gives most restorations the strength and durability to withstand bite pressure for many years before becoming worn down and needing adjustment or replacement. With the support of dental implants, restorations can enjoy even greater stability and, as a result, do an even better job of withstanding bite pressure with minimal wear and tear.
Find the best replacement for your lost teeth
Your choice for replacing your lost teeth should be able to do most or all of what your healthy, natural teeth can do. To learn more, or to schedule your consultation, call the Texas Institute of OFI Surgery in Midlothian, TX, today at 469-649-8259. We also serve patients who live in Dallas, Mansfield, Cedar Hill, Duncanville, Desoto, Red Oak, Waxahachie, Ft. Worth, and all surrounding communities.