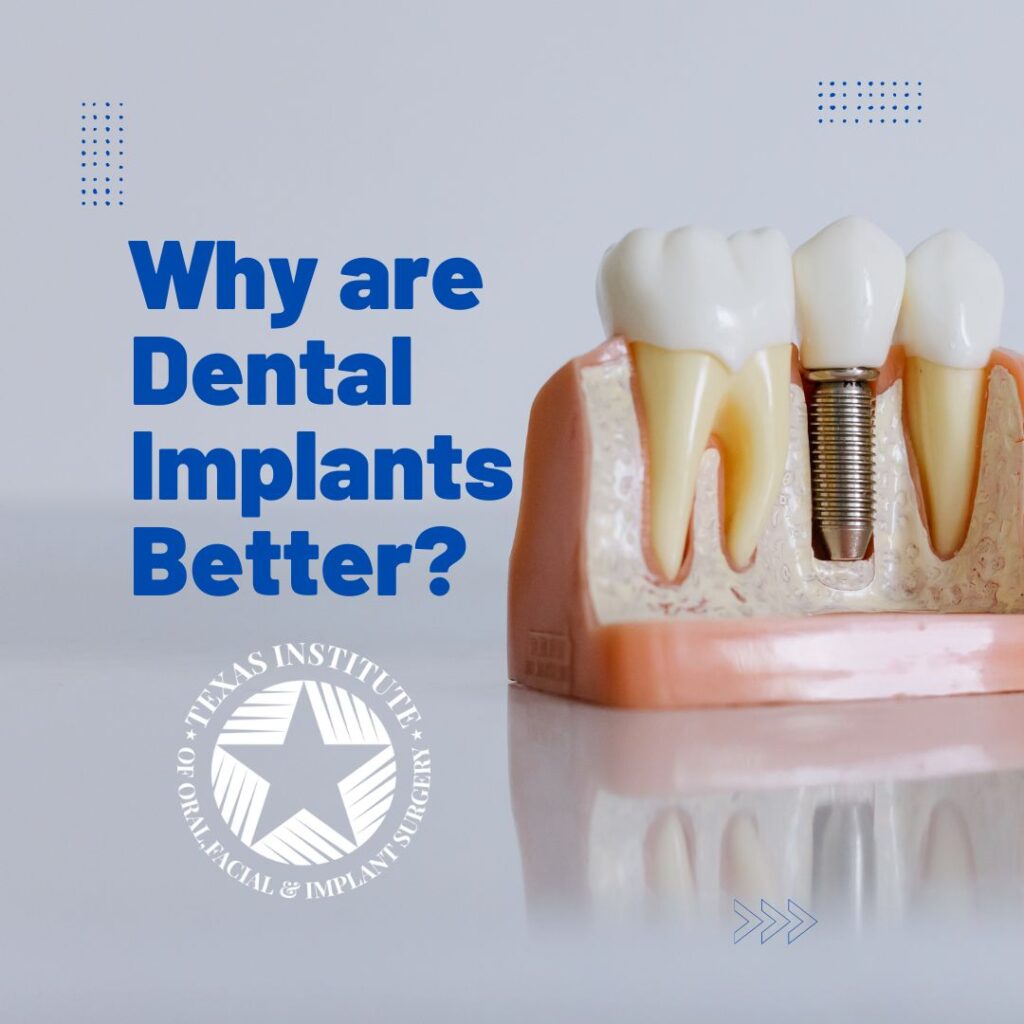 Tooth loss is a concern whether it's only one missing tooth or all of them. Missing teeth can affect your oral health and alter your overall quality of life. It can also have a big impact on your self-esteem, and make you feel more and more self-conscious when you're around other people. This can cause you to change how you interact with others on a daily basis, whether it's at work or around your family.
Missing teeth don't have to permanently disrupt your confidence or diet. There are great ways of restoring your smile and dental implants are one of the options Texas Institute of Oral, Facial and Implant Surgery offers as a solution.
Dental Implants (Ellis County)
Dental implants are the best option to choose when considering replacing missing teeth. Single tooth implants are very common, but implants can also be used for replacing multiple missing teeth. We can use the technology of implants to provide the stability and function of your natural teeth, supporting multi-tooth restorations. Implant-supported dentures or "all on" systems can use as few as 4 or 6 implants to secure the prosthesis, making it a more successful long-term option over dentures.
What Makes Implants Better?
Dentures have been used for years to address the issue of missing teeth. While they remain a popular choice, dental implants provide a better solution, and here are some of the reasons why:
Implants are Non-invasive to Permanent Teeth
Dental implants do not require any support from surrounding healthy teeth. This means that before, during, and after implants are placed, your natural teeth do not have to be altered. The implant sits in the jaw and will not need to be clasped onto other teeth as some partial dentures (or bridges) are. They rest independently between the other teeth, protecting their overall integrity and alignment.
Implants Function Like Real Teeth
Implants do a terrific job of functioning like natural teeth. The stability they provide is greater than that of dentures, so you won't have to worry about them shifting when eating your favorite foods or slipping around as you speak. Their integrity is so good, that you can enjoy all of your favorite crunchy or chewy foods.
Implants Help Preserve Bone
Without any stimulation, the bone in our jaws will start to resorb or shrink away after a tooth falls out or is extracted. Dentures are usually designed to sit on the bone ridge, which can cause the bone to shrink away more quickly than before. On the other hand, implants are placed within the bone and stimulate new bone formation around them. This reduces bone loss and will help to keep your appearance and smile more youthful as it supports the surrounding facial structures.
If you have missing teeth and are looking for a hassle-free way of restoring your smile once and for all, call Texas Institute of Oral, Facial and Implant Surgery in Ellis County. Our Midlothian implant specialist will assess your smile and go over all your tooth replacement options to help you select the best treatment for your circumstances.