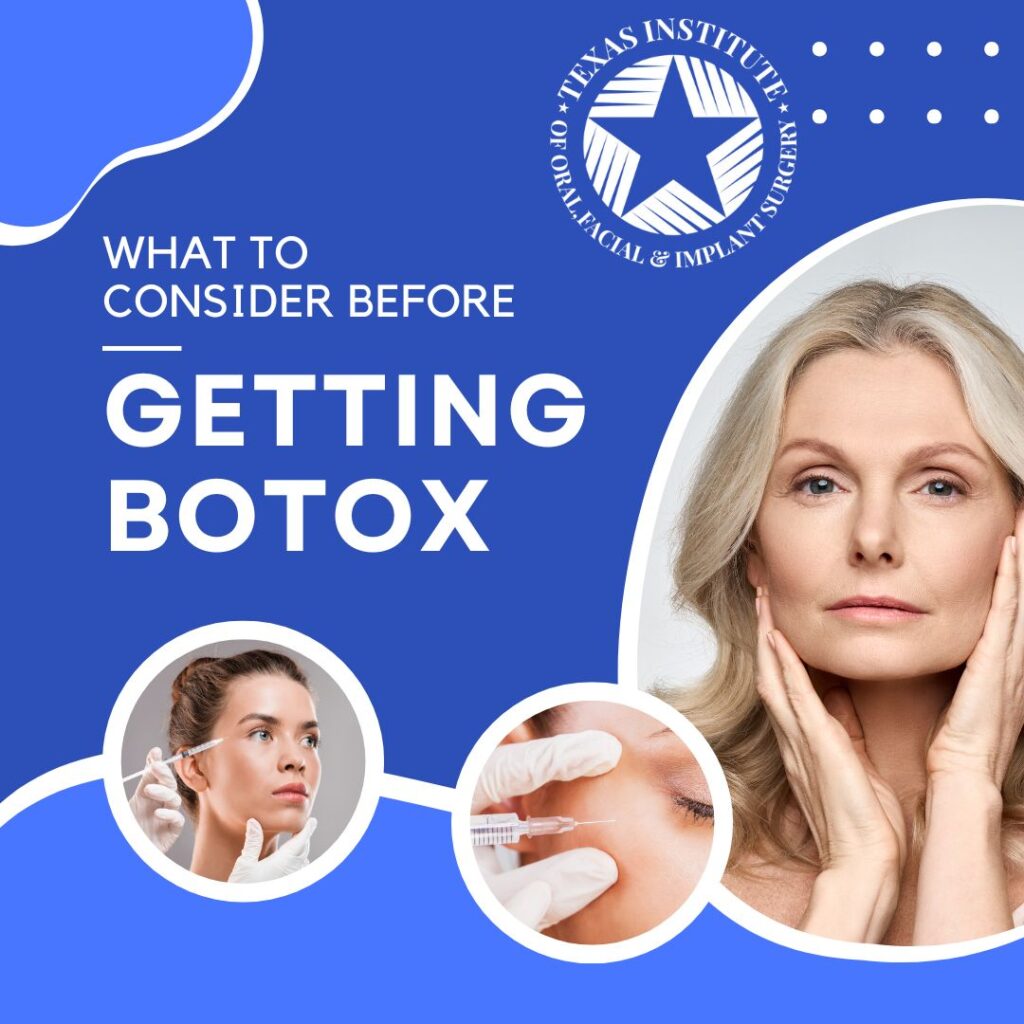 Botulinum toxin, also known as Botox, is an injectable medication that temporarily paralyzes the facial muscles where it's applied. It has become very popular because of its ability to enhance your skin tone and appearance with very little downtime. Plus, there's no irreversible surgery required. At Texas Institute of Oral, Facial and Implant Surgery, we recommend planning a consultation with our specialist before having any Botox treatment. This is a very important step as each person's goals and needs are unique. Your one-to-one with us also allows us to learn more about your medical history to make sure there is nothing that would adversely affect these cosmetic treatments.
Here are a few other things that should be considered before getting Botox in Midlothian or Ellis County.
Choosing the Right Botox Practitioner
When considering Botox treatments, finding the best medical provider is a very important step. Having the right suitably qualified person to administer the injections means getting the desired look you want in the right way. Our cosmetic practitioner is experienced in administering Botox and is an expert when it comes to the muscles and tissues throughout your face. You will receive the highest quality care from a team who knows more about your smile and orofacial anatomy than most other types of providers.
Cost of Botox
One of the benefits of Botox is that it is an affordable solution for reviving and enhancing your natural features. Depending on the area being treated, the costs can vary. A full understanding of what you would like to achieve will enable us to give you a clear cost estimate of the treatment. You can then decide how many areas you would like treated during each session.
Possible Side Effects of Botox
Although Botox injections are safe, you must consider the possible side effects. Different medical conditions or prescribed medications can cause different side effects, and just like with any other medical procedure this has to be taken into consideration before treatment. Completing a thorough review of your medical history during your consultation will allow us to go over any concerns and advise you in the best direction. Choosing an experienced specialist to apply your Botox will reduce your chances of unwanted side effects.
Fitting Botox Into Your Schedule
Another thing to consider when it comes to Botox treatments is your schedule. Although the injectables are minimally invasive, you will probably want to have a few hours of downtime after your appointment. Small red areas may appear at the areas of injection, but nothing too noticeable. After your appointment, you'll want to avoid wearing any makeup, exercising, or flying for the next 12-24 hours is recommended. This will limit any skin irritations and help prevent injectables from becoming disturbed.
More To Know About Botox
These are just a few things to consider before having Botox treatments. There is still more review before having any cosmetic procedures done. Contact our Ellis County specialist today for a consultation, and you'll be one step closer to getting the look you want.