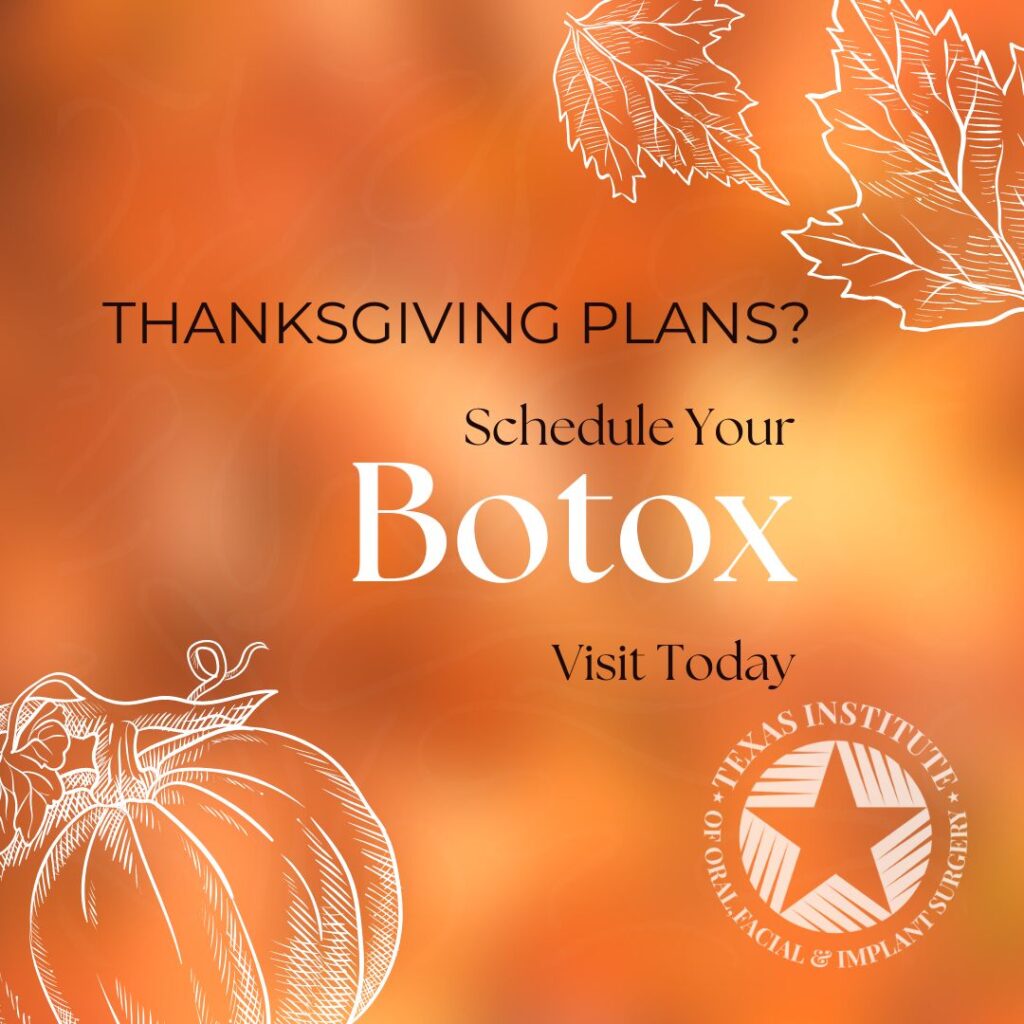 November has arrived and it is the unofficial start to the holiday season. Thanksgiving will be here before you know it, followed quickly by Christmas and countless holiday festivities. If you have plans already set and your family's outfits, menu, and maybe even the annual family photo, then now is a great time to add a little something more to your smile this year: Botox.
Botox treatments just before the holidays get here will have you ready to smile in countless photos, look your best at office parties, and feel great in your own skin wherever you go.
Midlothian Botox Treatments
Texas Institute of Oral, Facial and Implant Surgery specialize in Botox treatments that will subtly enhance the qualities of your facial profile in a natural, attractive manner. We can use the applications to smooth out fine lines or wrinkles developing around areas like your mouth, eyes, and forehead.
All of our treatments are performed in the office by our trained specialist who has extensive experience treating orofacial tissues for functional and aesthetic purposes. Botox is used by experts worldwide because it can also be used to reduce muscle spasms, treat migraines, and appease tension in your jaw and muscles. Our extensive knowledge and experience mean you will be getting the highest quality of care and safe Botox treatment you deserve from a team that believes in giving our patients the best.
Botox: Just in Time for a Holiday Fix
Botox treatments are a great perk around the Thanksgiving and Christmas holidays because it's relatively quick, non-surgical, and involves very little discomfort. You'll begin to notice the changes taking place within a few days after your Botox treatment, with full results a few weeks thereafter. Plus, there's no concern about noticeable irritation by the time Thanksgiving dinner rolls around. Your skin will look fresher, revived, and more youthful by the time you meet up with family. If you're using your time off to catch up with some friends, why not be the one who's glowing when they enter the room?
As an orofacial expert, our provider is one of the best in the Ellis County areas to offer Botox treatments in Midlothian. Our intense experience working with facial tissues ensures a high level of accuracy and precision during your cosmetic treatment.
Botox Consultations Midlothian, TX
We understand there may be some concerns about receiving Botox treatment for the first time. We're here to answer all your questions! Botox offers safe and non-invasive cosmetic results to help you feel your best. It's best to start with a consultation first so you feel comfortable with your options and the area being treated.
Give Yourself A Boost, Contact Us Today
The team at Texas Institute of Oral, Facial and Implant Surgery want to see you smile with confidence to look and feel like your best self this holiday season. Botox treatments are an easy and safe way of achieving a more youthful glow during this special season.
Contact us today to reserve a consultation with our orofacial specialist!