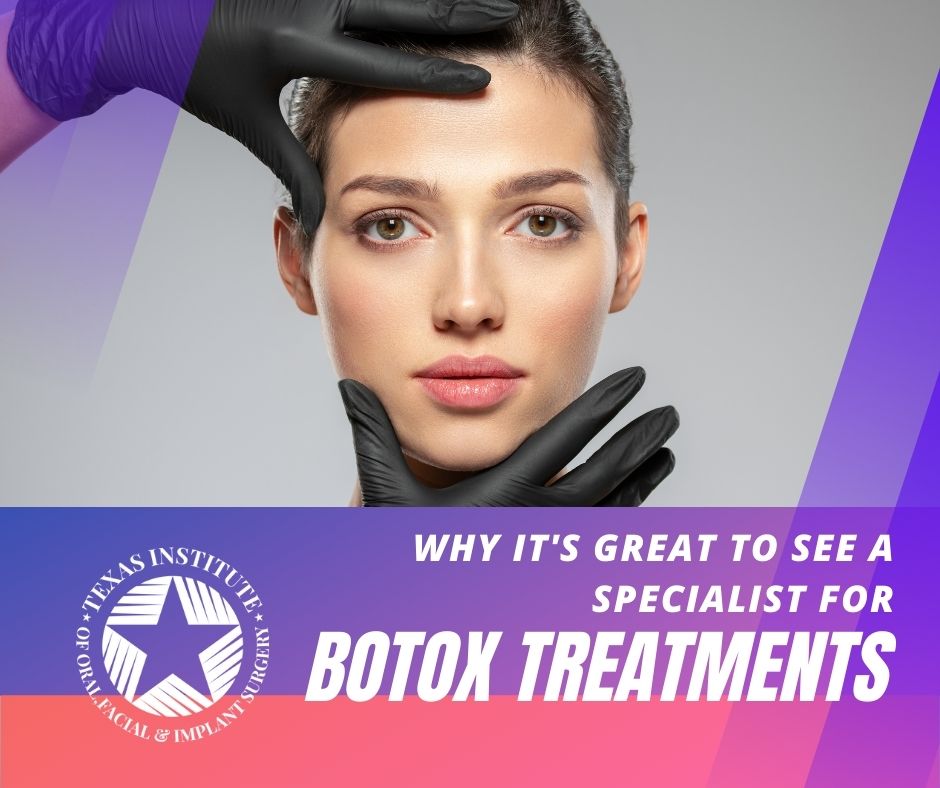 When you think of Botox, does the image of Hollywood and extensive cosmetic procedures probably come to mind?
While this treatment was once reserved for the rich and famous, Botox is now accessible for our dental patients right here in Midlothian!
Botox, short for Botulinum Toxin, is a cosmetic treatment that relaxes muscles around the face so your skin looks just as great as your smile!
Best Uses for Botox
Botox treatments are incredibly safe, deliver effective results, and only take a few minutes of your time to administer.
Many of our patients choose Botox because it can reduce wrinkles, blemishes, and uneven skin with just a few tiny injections. For this reason, Botox is the perfect complement after the Texas Institute of Oral, Facial & Implant Surgery team restores your smile to look and feel its very best.
Here are some more reasons to love Botox:
Relax the upper lip to reduce a "gummy" smile
Tighten loose skin for a more youthful appearance
Alleviate facial wrinkles and creases
Reduce the severity of headaches or TMJ tension
Experts in Orofacial Anatomy
Not all dentists are the same. Oral surgeons have more education and experience with orofacial anatomy, usually undergoing 2-3 years of additional training to learn how to care for the soft and hard tissues in the face and jaw in a more complex manner.
At Texas Institute of Oral, Facial & Implant Surgery, our oral surgery team uses this experience to provide advanced procedures that you won't find elsewhere. Not only this, but we leverage state-of-the-art technology and procedures to deliver excellent results while ensuring safety and reducing recovery times.
What to Expect from a Botox Treatment
Getting Botox treatments begins with a consultation, which gives us a chance to listen to your concerns and explain how Botox works for your specific situation. Since treatment is minimally invasive, we can sometimes administer Botox during this visit if you're ready to get started.
Getting Botox treatment is simple. First, we look at the areas of concern and highlight the best places to apply the injectable. Then, we use a tiny needle to inject the Botox at specific points. Don't worry – this only takes a few minutes. After that, you can leave the office and only expect minimal irritation at the injection sites.
It may take a few weeks or months to see the full effects of Botox if you're getting it for the first time, as it tends to gradually work over time. Our office may schedule a follow-up appointment simply to monitor your progress and answer any questions.
You can expect Botox to last for at least 3-6 months. Once the effects start to fade, you can schedule touch-up treatments. Most people only need a few follow-up visits per year, and these appointments only take a few minutes!
Botox Cosmetics in Midlothian
The team at Texas Institute of Oral, Facial & Implant Surgery loves helping patients improve their smiles and confidence. Botox treatments are just one more way for us to make this possible. Whether you want to combine Botox with other cosmetic procedures or try it out on its own, we are here to help.
Call 469-649-8259 to schedule your Botox treatment in Midlothian, TX.