We know summer can get a bit busy, and scheduling dental appointments can easily be an afterthought. At the Texas Institute of Oral, Facial & Implant Surgery, we want to remind you that we still have a limited number of wisdom teeth consultations remaining for the summer.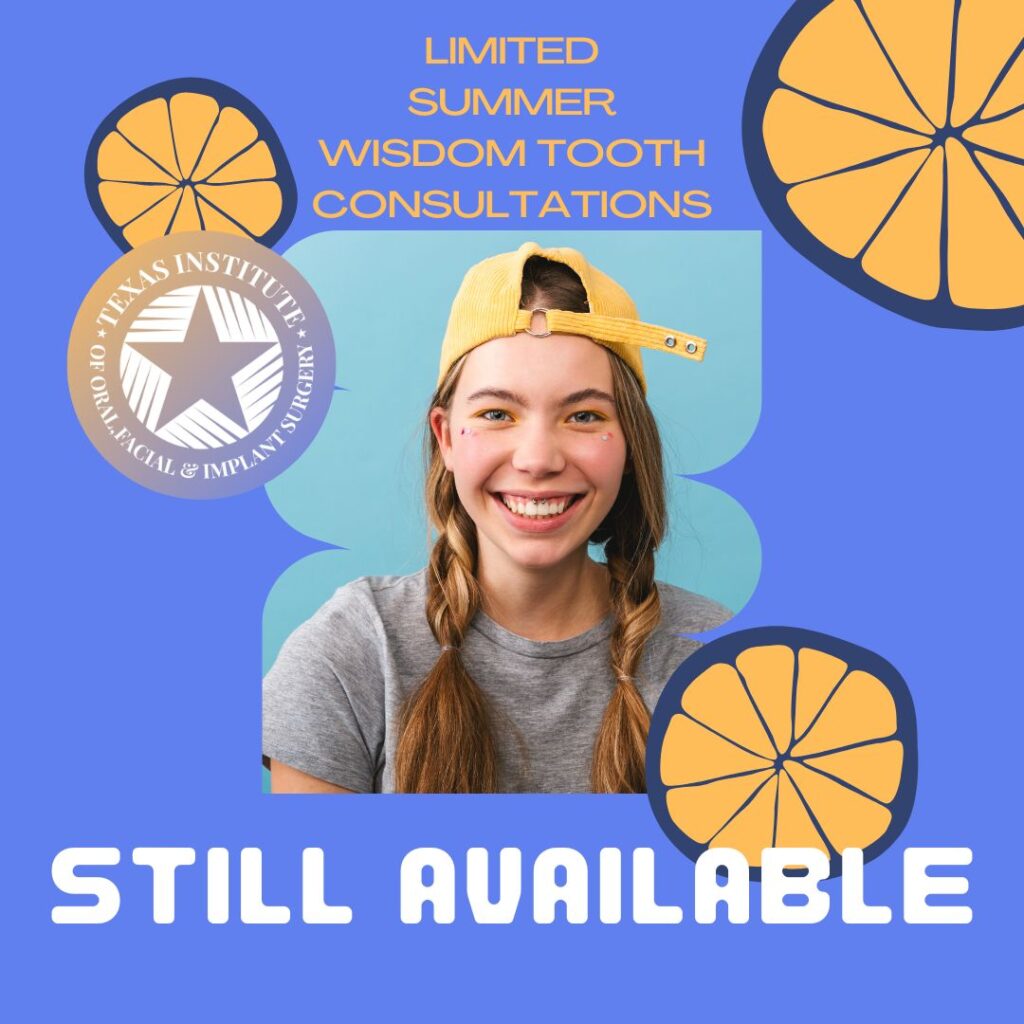 Why Summer is a Good Time For a Wisdom Tooth Consultation
Planning a wisdom tooth consultation during the summer months may seem like it can cause an interruption to your plans, but it can actually do the opposite. An early consultation can allow for better planning of your schedule. During the consultation, you learn everything you need to know about your case and what will be necessary when it comes to treatment (if applicable). This visit will also give you the opportunity to look ahead at your schedule to plan for the surgery accordingly.
You can choose to have the wisdom tooth removal during the summer, which has advantages, or choose to schedule something a little later that may fit better with your plans. Either way, after a consultation, you will be better prepared to make an informed decision that fits in with your summer and back-to-school plans this fall. Especially if your teen is headed off to college.
Benefits of Wisdom Tooth Removal in the Summer
Having a summer consultation means you can set aside free time to have the surgery completed before school starts back. Being out of school will give your teen the perfect opportunity to relax and recover without any added stress. There won't have to worry about interruptions during exam periods or the possibility of missing school-related activities. They can take a week out of their summer to have the surgery and rest and recover properly.
Having the consultation ahead of time also means you can organize whatever is necessary for the appointment and recovery. Things like proper transportation to and from the office, picking up required medication, and preparing the right foods to eat for the next few days during recovery. These are just a few things that can be prepared ahead of time to make the whole process a bit smoother.
Get Your Questions Answered
Consultations are an important step before your wisdom teeth are removed. During this appointment, we will be able to take any necessary scans for the doctor to make a proper diagnosis. We use state-of-the-art 3D imaging technology in order to see as much detail as possible to ensure our surgical team is well prepared in advance. The consultation is also the appropriate time to discuss any medical issues or concerns you may have. For example, if you have diabetes, are taking specific medications, or have had problems with anesthesia in the past. This is the best time to discuss such concerns before the wisdom teeth start to cause pain or infection.
Texas Institute of Oral, Facial & Implant Surgery offers wisdom tooth removal for our patients in the Midlothian and greater Ellis County area. Call us now to reserve an appointment.