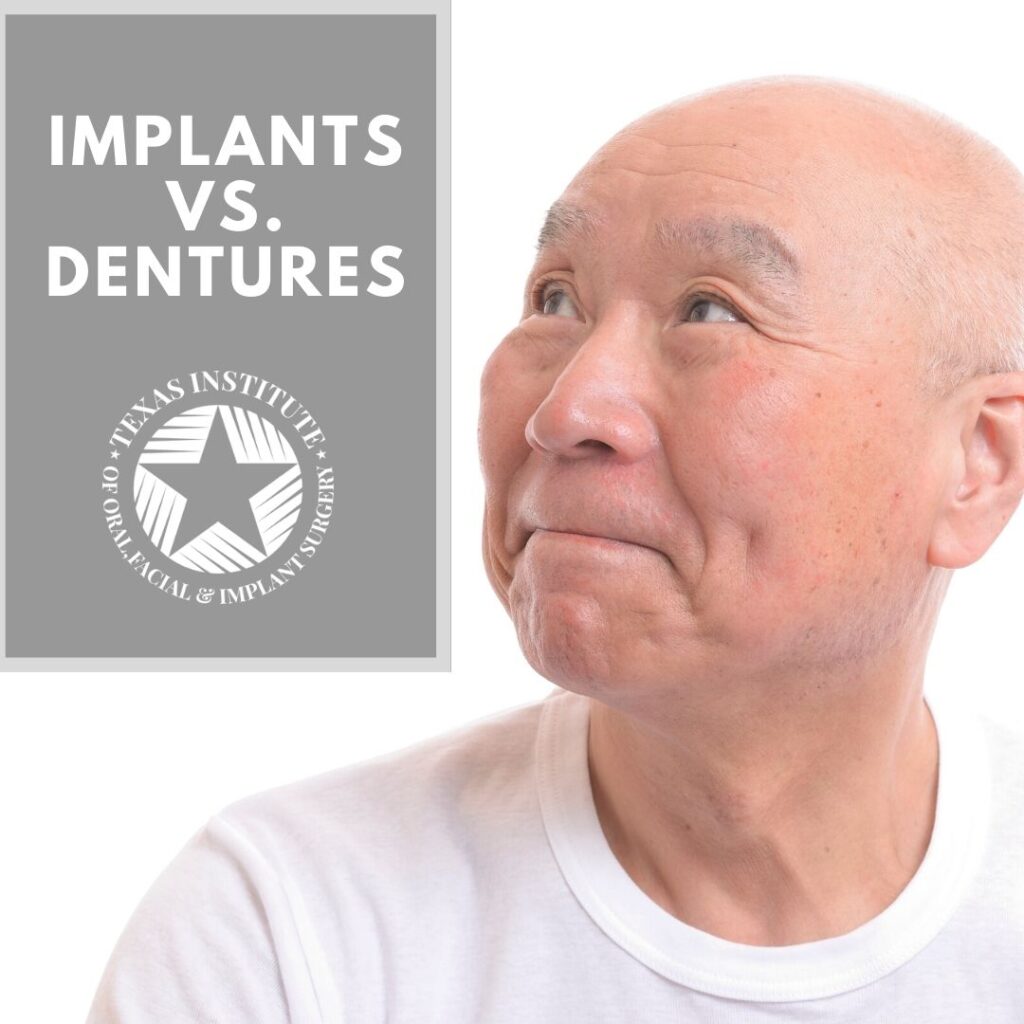 Are you missing several (or all of) your teeth? While both dentures and dental implants are popular tooth replacement options, the two are nowhere near equal.
Here are the main differences between implants and dentures that you should be aware of before taking the steps in your smile reconstruction journey.
Midlothian Dental Implants: Benefits
Today's dental implants can be used to replace any of your missing permanent teeth. Our expert can combine fixed crowns or bridges with implants to replace just a few teeth so that you won't have to wear a partial or extract healthy teeth. Plus, the design of an implant makes it stronger than anatomical teeth. Whereas a denture isn't as strong and reduces your biting strength.
For full mouth reconstruction, a set of four implants can permanently support a fixed "All-on-4" dental implant design. This hybrid appliance is more like an extended dental bridge, as it only covers the arch of your teeth instead of the roof of your mouth (like a denture).
All-on-4 implants have several advantages over dentures because they:
Are more comfortable
Aren't removable
Are easier to talk and eat with
Support your bone and facial profile
Do Implants Last Longer Than Dentures?
Dental implants that are well maintained can last a lifetime. They're almost like having real teeth all over again. Whereas traditional dentures need to be readjusted or replaced every few years.
Which is More Affordable? Dentures or Implants?
People who prefer traditional removable dentures (aka "plates") are more likely to choose them due to convenience and affordability. Unfortunately, this fast tooth replacement has a downside. Since they need to be replaced on a fairly frequent basis, the costs are ongoing.
Whereas with dental implants or All-on-4 treatment, you're getting a better return on investment. Your new smile is simple to maintain and can last the rest of your life. Simply brush and floss your implants regularly and schedule a regular checkup at least every six months.
Implant-Supported Denture Options
You can combine dentures with dental implants to create a modern hybrid alternative to traditional removable dentures. These prosthetics are called an "overdenture" or "snap-on" denture. They essentially look like a conventional denture, but we use 2-4 implants underneath to stabilize it throughout the day. That way it won't shift, rock, or rub. Then you can remove it at night the way you would a traditional denture.
Fixed All-on-4 and All-on-6 implants take things a step further. As a U-shaped, streamlined prosthesis, it follows the natural curves of your arch of teeth. It doesn't take up any extra space in your mouth like an overdenture and it isn't removable.
Visit Our Dental Implant Expert
Texas Institute of Oral, Facial & Implant Surgery in Midlothian serves clients throughout the Cedar Hill, Mansfield, and Waxahachie areas. Reserve a no-obligation exam to learn more about your tooth replacement options with dental implants. Flexible payment plans are available. You'll love our friendly staff and down-to-earth atmosphere, where your needs are valued above everything else! Call us today to get started.